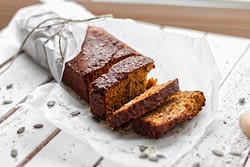 Chickpea & Hemp Protein Bread
This is a great source of plant-based protein for vegans needing more protein in their diet.The bread will keep fresh for a week – wrap in waxed baking paper and store in the fridge.
Ingredients
250

g

Chickpea Flour

Pinch

Of Salt

7

g

Yeast

Pinch

of Sugar

200

ml

Water

175

ml

Hemp Milk

1

Teaspoon

Tomato Paste

1

Teaspoon

Ground Black Pepper

1/2

Teaspoon

Garlic Powder

1/2

Teaspoon

Smoked Paprika Powder

40

g

Whole Linseeds

2

Teaspoon

Milled Flaxseeds

90

g

Hemp Flour

50

g

Almond Flour

Ground Almonds

2

Teaspoon

Pumpkin Seeds

1

Tablespoon

Coconut Oil – for greasing
Instructions
In a large jug, combine the yeast with the pinch of sugar and add to the water.

Let the mixture rest for about 10 minutes

Pre-heat your oven to about 180 ˚C and grease a bread tin.

Line the bottom of the tin with greased waxed baking paper – let the ends stick out over the tin, so that you have leverage to remove the bread once baked.

Blend the tomato paste with the Hemp Milk until the paste is thoroughly mixed into the milk.

Once combined, slowly add to the yeast mixture and stir well.

In a large bowl combine the rest of the dry ingredients.

Create a well in the middle of the dry ingredients and slowly start adding the liquid whilst stirring. You can use a spatula for this or also a large whisk.

When all the liquid is combined with the dry ingredients, the consistency should resemble more of a batter than a dough – but don't worry, this is exactly what we are looking for.

Let the batter rest for an hour, covered with a damp cloth, so that the yeast can do its job.

Add the batter to the tin and bake it in the oven for about 45 minutes.

You will be able to tell that the batter is slowly rising.

After the baking time elapses test the bread with a pick and if it is still too moist, bake it for another 5 to 10 minutes.

Remove and let cool on a cooling rack, before wrapping in some waxed baking paper.