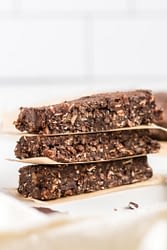 Chocolate Chai Protein Bars
We're celebrating some shelled hemp seed love with these Chocolate Chai Protein Bars. Chocolatey, chai-like, vegan-friendly, no-bake goodness.
Ingredients
3/4

Cup

(about 2 scoops) Hemp Protein Powder

1/4

Cup

Almond Meal

2

Tablespoons

Coconut Flour

2

Tablespoons

raw cacao powder

1/2

Teaspoon

Cinnamon

1/2

Teaspoon

Cardamom

1/4

Teaspoon

Ginger

1/4

Teaspoon

Nutmeg

1/8

Teaspoon

Cloves

1/2

Cup

Sunflower Butter

or any other nut butter

3

Tablespoons

Raw Honey

or Brown Rice Syrup

1

Tablespoon

Coconut Oil

melted

3

Tablespoons

Unsweetened non-dairy milk

Hemp, Soy, Almond, Cashew etc. (may need more or less – see as you go)

3

Tablespoons

mini Chocolate Chips

1

Teaspoon

extra virgin Coconut Oil

2

Tablespoons

Shelled Hemp Seeds
Instructions
Line a bread pan with waxed baking paper – let big flaps hang over the sides (will be used later to flatten the mixture)

In a large bowl, combine the protein powder, almond meal, coconut flour, cacao powder and spices. Stir until well mixed and set aside.

In a medium bowl, add sunflower butter, honey and melted coconut oil and stir until well combined.

Add sunflower butter mixture to the large bowl of dry ingredients and fold in until well mixed.

The mix will be dry and take a while to come together.

Add one tablespoon of milk at a time, until mixture forms into crumbled dough texture.

Use your hands to make sure everything is well mixed at the end.

Press mixture into the prepared pan with slightly wet hands. Flatten as much as you can. (Then use the overhanging waxed paper to press and get really flat.

Melt chocolate chips and coconut oil together over a low heat - until the chocolate is completely melted.

Pour melted chocolate over the bars and sprinkle with additional shelled hemp seeds.

Place the bars in freezer for 30 minutes, or refrigerator for 1 hour to set. Lift the waxed paper from the pan and cut into 10 bars.

Store bars in an airtight container in the fridge up to 2 weeks and in freezer well wrapped for up to 3 months.

I like to individually wrap bars and store in the fridge and/or freezer for a quick snack or easy lunch packing.
Notes
I do NOT recommend using whey or casein protein powder with these ratios. The bars will most likely end up sticky and gooey, and will not set properly.
Depending on what vegan protein powder you use, you may need to adjust the liquid accordingly. Start with one tablespoon of milk (or water) at a time until dough is thick, slightly moist, and crumbly. You should be able to press down into the pan without it sticking to your hands too much.
Use an all-natural nut butter, minimally processed. I used Once Again, which needed to be stirred. I do not recommend using "no-stir" without changing some ratios. You may need to add more liquid.
*Feel free to leave the chai spices out if you don't care for chai flavours.
NUTRITION INFORMATION
Serving size: 1 bar Fat: 12 Carbohydrates: 15 Sugar: 9 Fibre: 4 Protein: 9
Nutrition