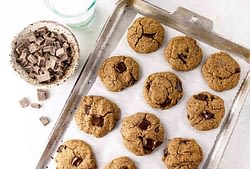 Buckwheat Chocolate Chip Cookies
This gluten-free treat uses three alternative flours, some special flavours and a long resting time to create the perfect bite. Buckwheat flour is a nutritional powerhouse: high in fibre and minerals, it's known for its cardiovascular benefits. Meanwhile, glutinous rice flour acts as a milky, starchy binder and almond flour helps to create a rich, nutty, plush chew. The barely detectable pinch of lavender works together with bright citrus and smoky coffee to balance out the earthiness of the gluten-free flours, and a touch of milk powder completes the flavour package. A couple of tips for gluten-free baking: use a scale whenever possible and win the waiting game. If you don't own a scale, avoid over-packing your measuring cups: just a little bit of extra flour can make the cookie too dry and crumbly. It's also essential to allow this dough to rest fully in order for the flours to hydrate and the flavours to mingle. Your patience will be rewarded!
Ingredients
1/4

Cup

Granulated Sugar

1/2

Teaspoon

Orange Zest

1/2

Cup

1 Stick Melted Butter

1/8

Teaspoon

Ground Lavender

1 1/2

Teaspoons.

Instant Coffee

1

Teaspoon

Dry Milk Powder

1/2

Cup

packed Brown Sugar

1

Large Egg

1

Teaspoon

Pure Vanilla Extract

1/4

Teaspoon

Kosher Salt

1/8

Teaspoon

Baking Soda

1/2

Cup

Almond Flour

50 g

1/2

Cup

Buckwheat Flour

60 g

1 1/4

Cup

Chopped Dark Chocolate

Divided
Instructions
Preheat the oven to 180°C. Line two large baking sheets with waxed baking paper.

In a small bowl, rub together granulated sugar and orange zest until well combined. Set aside.

In a medium bowl, whisk the melted butter with lavender, coffee and powdered milk. Add sugars and whisk until smooth and slightly thickened. Add egg and vanilla and whisk until incorporated.

Whisk in salt, baking soda and rice flour until fully incorporated.

Fold in the almond flour until fully incorporated, then fold in buckwheat flour.

Fold in 1 cup chopped chocolate. Cover and refrigerate dough for at least 30 minutes.

When ready to bake, using a medium scoop, scoop balls of dough and place 5cm apart on prepared sheets. Top with remaining ¼ cup chocolate.

Bake until edges are lightly golden and tops are barely set, 9 to 10 minutes.

Let cool completely and store in an airtight container—cookies taste better the day after!