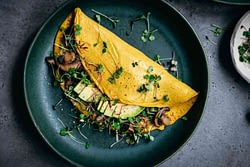 Chickpea Omelet
Say hello to your new favourite classic breakfast recipe. This ridiculously easy vegan omelet! The chickpea flour omelet batter comes together in a blender in less than 5 minutes, and they only take a few minutes to cook for a quick, customizable, egg-free breakfast. Regular omelets are so easy to make – just crack a few eggs, whisk and cook. Some vegan omelet recipes, however, can be a bit more time consuming and require 15+ ingredients. This recipe is just as quick and easy as the real thing. Although it doesn't taste exactly like eggs (not an easy feat!), it makes for a delicious vegan breakfast.
Ingredients
Omelets

1

Cup

Chickpea Flour

Garbanzo Bean Flour

1 ¼

Cup

Oat Milk

or other dairy-free milk

2

Tablespoon

Nutritional Yeast

¾

Teaspoon

Salt

½

Teaspoon

Baking Powder

¼

Teaspoon

Black Pepper

¼

Teaspoon

Onion Powder

¼

Teaspoon

Garlic Powder

⅛-¼

Teaspoon

Turmeric

Filling

2

Tablespoons

Vegan Butter or Coconut Oil

1

Cup

Thinly sliced Mushrooms

1

Cup

Spinach or Kale - chopped

2

Tablespoons

Fresh Parsley - chopped

Salt And Pepper to Taste

Vegan Parmesan or Mozzarella

Avocado
Instructions
Omelets

Add all omelet ingredients to a blender and blend until completely smooth.

Filling

To make filling, add butter to a sauté pan over a medium heat.

Add the mushrooms and increase heat to medium high, stirring frequently until cooked.

Reduce the heat to medium and add the spinach and parsley. Season to taste with salt and pepper.

Place a separate 20 cm pan on a plate on the stove – over a medium heat.

Add a dollop of coconut oil to the pan to grease.

Once hot, add just enough omelet batter to cover the pan in a thin, even layer.

Cook for 4-5 minutes, until the top of the omelet looks mostly dry.

You can use a spatula to take a peek at the bottom of the omelet – it's ready when it's slightly golden brown (see photos for visual guide).

Add toppings to the omelet, top with cheese, avocado, etc, fold and transfer to a plate using a flexible spatula.

Enjoy hot!
Notes
NOTES
Depending on the thickness of the omelet/how long it's cooked for, it may crack when folded. To avoid this, we recommend using a very thin layer of batter and letting it cook until the bottom is golden brown. NUTRITION
Serving Size: 1 Omelet Calories: 384 Sugar: 5.3 g Sodium: 1411.5 mg Fat: 24.6 g Saturated Fat: 9.1 g Trans Fat: 0 g Carbohydrates: 33.9 g Fiber: 7.9 g Protein: 9.1 g Cholesterol: 0 mg