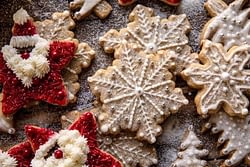 Soft Sugar Cookies (paleo, grain-free, refined sugar-free)
These cookies are a little different from the standard sugar cookie, of course, seeing as they're made with coconut palm sugar instead of refined white sugar. They bake up the colour of light brown sugar and have a bit of a caramel-like flavour, which though different, is really yummy.
Ingredients
¼

Cup

Unsalted Butter

Room Temperature

½

Cup

Coconut Palm Sugar

1

Large Egg

1

Teaspoon

Vanilla

1½

Cups

Almond Flour

¾

Cup

Tapioca Flour

½

Teaspoon

Baking Powder

½

Teaspoon

Salt
Instructions
Preheat the oven to 160˚C degrees.

Line a baking sheet with waxed baking paper.

Place the butter and coconut sugar in a mixing bowl. Beat with an electric mixer for 2-3 minutes until light and fluffy. Beat in the egg and vanilla.

Add the almond flour, tapioca starch, baking powder, and salt to the mixture and beat in until well combined. Dough should be thick. If dough is too sticky, stir in another tablespoon or two of almond flour.

Place the dough on a strip of plastic wrap. Flatten into a disc and wrap up with the plastic. Refrigerate for one hour.

Unwrap the dough and place it between two sheets of waxed baking paper.

Roll out to a thickness of ~1cm. Do not roll any thinner - thick dough means thick cookies which means soft cookies. If you roll the dough too thin it will dry out quickly.

Cut shapes out of the dough and place on the wax paper lined baking sheet.

Bake in the preheated oven for 8-10 minutes.

Watch closely - you want the cookies to be only just cooked. Don't cook them to the point of browning. They should be just set and pale in colour. This will also ensure that your cookies are super soft.

Remove from the oven and let cool for 2 minutes.

Place cookies in an airtight container - Placing them in a sealed environment before they have cooled will help to keep them soft and chewy.

When cool, decorate to your heart's desire.
Notes
A few tips I always employ when making soft sugar cookies:
Don't roll the dough too thin – I roll it to about a thickness of 1/2 inch – never any thinner. Thick cookies mean soft cookies – thin cookies will dry out fast in the oven!
Once the cookies have been out of the oven for a few minutes but are not all the way cool, seal them up. Put them in a Ziploc or a covered container. This will seal the moisture into the cookie.